The colors of the changing leaves in Tennessee, the incredible sunsets, and the general "moody" vibes of fall weddings make them some of our absolute favorites.
Last Halloween, we had the pleasure of being a part of Gray and Billy's Halloween-themed wedding, and it couldn't have been more beautiful! With The Estate at Cherokee Dock setting the scene, they pulled out all the stops for their luxuriously moody soiree. The prettiest bold colors, vintage accents, and boho infused decor all played a part in making it an unforgettable event.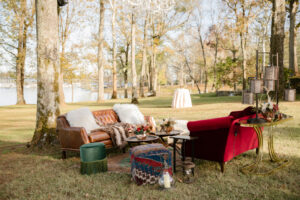 "As a lover of history, I was inspired by antique furniture and collectables my grandmother had accumulated over the years. In addition, I was influenced by the fall season when the harvest comes in which is my favorite time of year. I also took inspiration from the dark, poetic romanticism of Edgar Allan Poe, imagery from The Legend of Sleepy Hollow and the Victorian era. We were both living in East Nashville at the time, so I had to throw in some boho vibes as well. It culminated into a dark and moody, romantic evening, but with a splash of bohemian vintage atmosphere – whimsical yet tasteful," said Gray on the inspiration for her wedding theme. We were able to provide a variety of items like our Freddie and Gigi Chairs, Turkish Rugs, our Rosie Sofa, our Michelle Bar, and many more to bring her vision to life.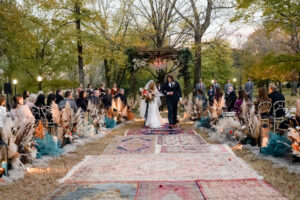 "Many fantastic people were involved in our planning process. White Door Rentals, Spark Vintage, Please Be Seated and Liberty Party Rentals allowed us to hand-pick all of our decor and place settings from the chairs for the ceremony down to the napkin fabric and color", said Gray in the interview.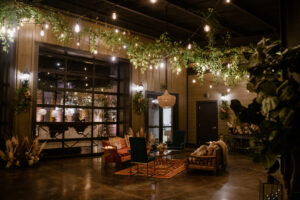 Gray and Billy's big day was even featured in Nashville Bride Guide as a can't-miss event of the season! To check out more photos, tips, vendors and more from their Halloween wedding, check out the feature here. 
We're so proud to have been a part of such a gorgeous, intentional event. To start your own wedding wishlist, click here!